SEMPRE
INNOVATIVI
---
Le continue evoluzioni del mercato ci impongono di essere sempre pronti a rispondere alle molteplici richieste.
Seguendo questo stimolo, il nostro ufficio stile e i ns tecnici, sono sempre alla ricerca di nuovi tessuti e finissaggi che diano la possibilità di realizzare capi comodi e performanti e con importanti caratteristiche tecniche
ALWAYS
INNOVATIVE
---
Ongoing market evolution leads us to being prepared to face multiple requests.
Motivated by this inspiration, both our style department and technicians are constantly creating new fabrics and looking for finishings that enable our customers to create comfortable and performing garments with high technical features.
---
ECO PLUS
La garanzia estesa a tutta la nostra produzione.
---
In questa etichetta è racchiusa tutta la nostra attenzione allo stare bene sia con noi stessi che con il mondo che ci circonda.
Tutti gli standard della nostra produzione sono verificati costantemente, non utilizziamo metalli pesanti, non utilizziamo prodotti chimici nocivi per la salute e l'ambiente.
Il benessere del pianete ci sta molto a cuore e lavoriamo con costante attenzione a questo aspetto in ogni nostra creazione.
ECO PLUS
Guarantee extended to all our production
---
This label represents our attention to well-being towards both ourselves and the planet.
Our production standards are constantly controlled, we use neither heavy metals nor harmful chemicals which could damage health and the environment.
Being focused on such a commitment, each and every manufacturing step requires our close attention to lower the environmental impact.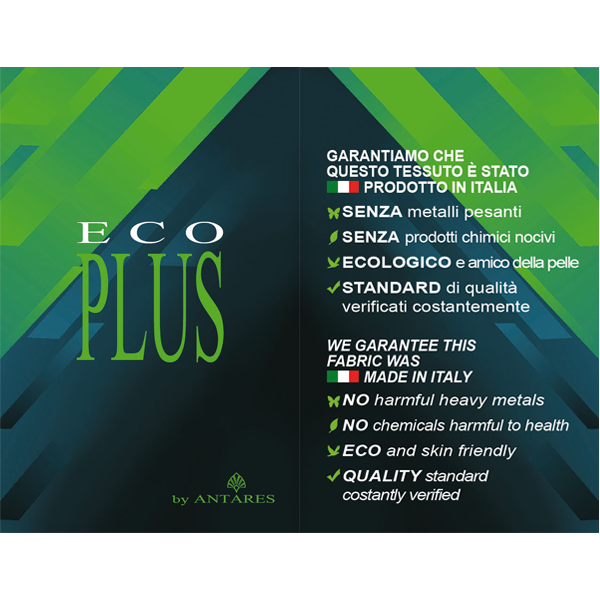 ---
PROTECTION
Un ulteriore punto di forza che caratterizza i nostri tessuti.
---
Traspirabilità elevata, anti-odore e anti-batterico, ecologicamente sicuri, sono solo alcune delle caratteristiche che contraddistinguo le nostre linee.
Ecco la nostra etichetta che garantisce tessuti altamente performanti, che vengono costruiti per seguire al meglio le ns. forme e lasciarci completamente liberi nei movimenti in tutta sicurezza.
PROTECTION
A further strong point of our products
---
High breathability, anti-odour and anti-bacterial, ecologically safe: just a few qualities among the ones that mark our textiles.
Here is our label guaranteening high performance fabrics, made to fit all shapes and to feel comfortable and secure.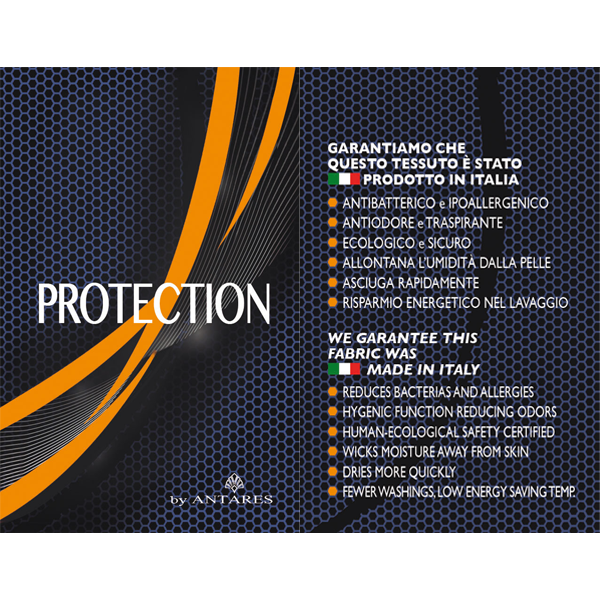 ---
RECYCLED
Una scelta per il pianeta
---
Ormai da tempo abbiamo dato grande spazio all'interno delle nostre collezione ai tessuti riciclati e anche quanto non sono proposti in questa versione, possono comunque essere richiesti.
Con questo spirito abbiamo realizzato due diversi Jersey con ben dieci colori in stock service.
E' uno sforzo che abbiamo voluto affrontare proprio per essere coerenti con la nostra filosofia che ci spinge ad essere assolutamente attenti a quello che può migliorare la nostra salute e quella del nostro intero pianeta.
RECYCLED MATERIALS
A choice for the planet
---
For some time now, recycled fabrics take on great importance in our collections; even if some textiles are offering the standard version, we can switch them into the recycled version on demand.
With this in mind, we have created two different jersey fabrics, whose 10 colour shades are stock based.
This special effort reflects our philosophy, which drives us to be absolutely attentive to what can improve the health of people and preserve the planet.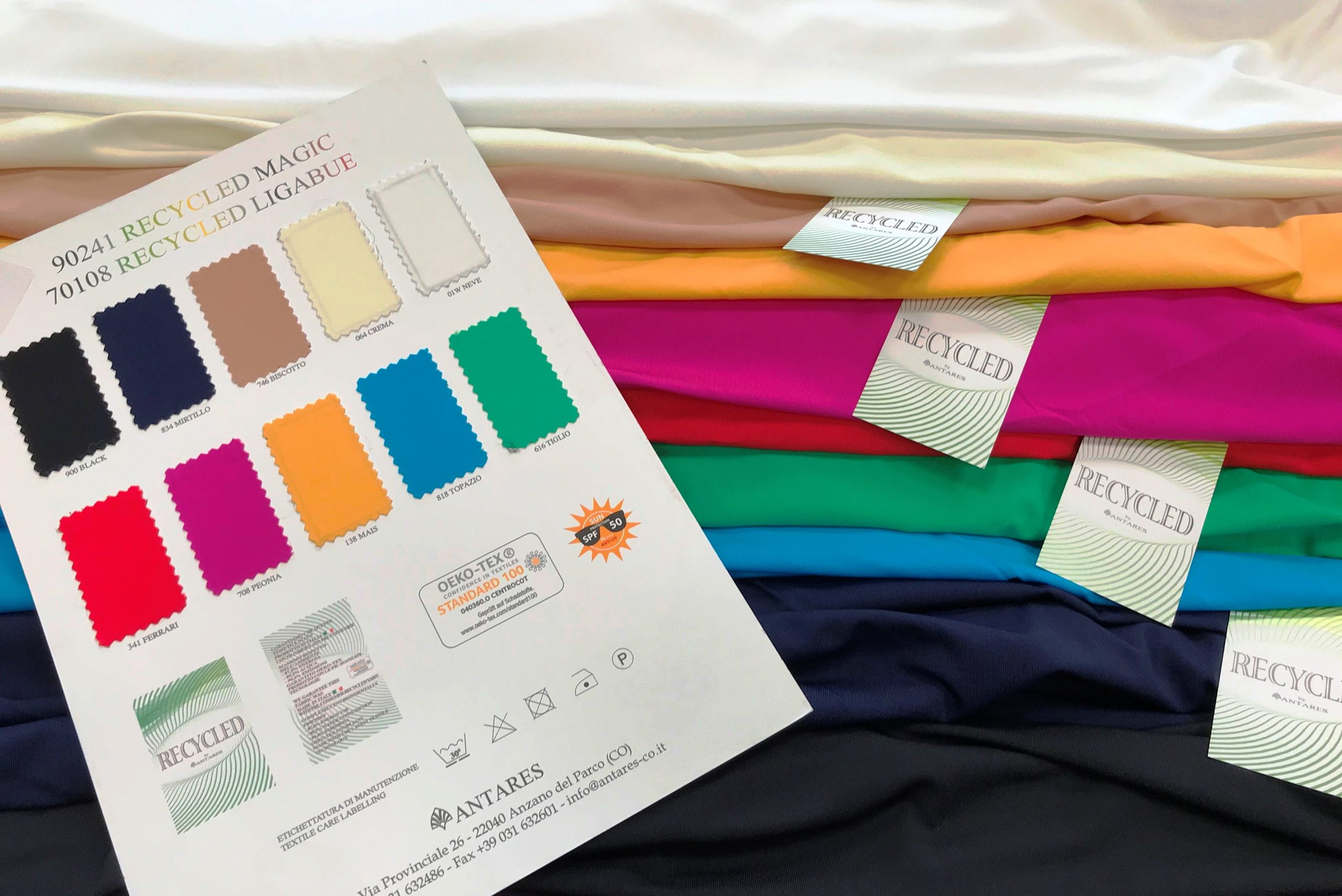 ANTIVIRALE
La sicurezza innanzitutto
---
E' uno degli importanti aspetti sui quali stiamo lavorando da tempo e possiamo quindi proporre una vasta gamma di tessuti con protezione antivirale permanente.
ANTIVIRAL PROPERTY
Safety first and foremost
---
We have been working on this for some time and now we are able to offer a wide range of fabrics with permanent antiviral protection.
ATHLEISURE E
LEGGINS MANIA
Quando lo sport si fa notare
---
I tessuti realizzati e che realizzeremo con questo spirito, sono pensati per capi sportivi performanti con occhio sempre attento alle tendenze moda.
Una nuova, energica, irriverente tendenza che sancisce l'unione fra sportswear e abbigliamento formale, in perfetta sintonia con uno stile di vita attivo e dinamico.
L'athleisure sfrutta la comodità di un outfit sportivo senza rinunciare ad un tocco glam.
Grazie a materiali sempre più ricercati e design curati nel dettaglio, lo sportswear è il nuovo protagonista del settore abbigliamento.
ATHLEISURE AND
LEGGINS MANIA
When sport gets noticed
---
Fabrics we have created and will create for this range are designed for high-performance sportswear winking at fashion trends.
A new, energetic, irreverent trend merging sportswear with formal wear, in perfect harmony with an active and dynamic lifestyle.
Athleisure takes advantage of the comfort of a sporty outfit without sacrificing a touch of glam.
Thanks to increasingly sophisticated materials and design with attention to detail, sportswear is the new star of the clothing industry.